Cows | Bulls | Heifers | Calves | Horn length | Coloration | Inbreeding | Ranch sites | Brand explanation | Links
---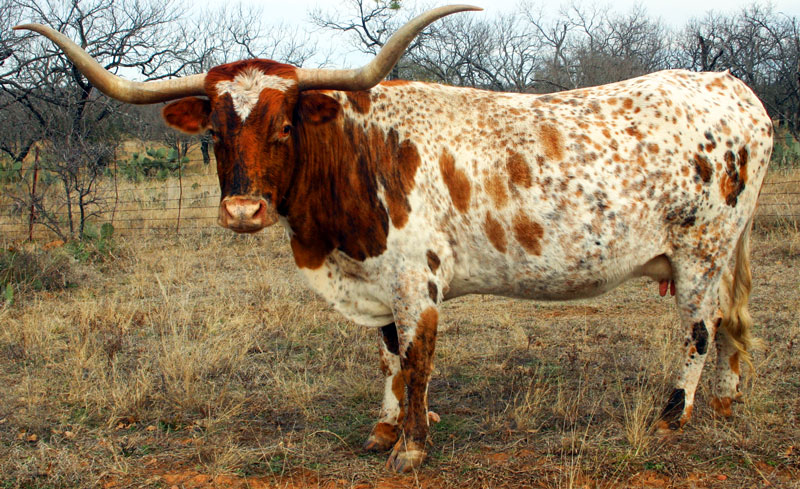 Pedigree of D-H Shonuff (DOB: 12/17/02)
TLBAA #C215677, PH1232
D-H Shonuff

Great grandsire 1: Emperor

Great granddam 1: Kimco 5

Great grandsire 2: Emperor

Great granddam 2:

Shapely Jumper


Great Grandsire 3:

WR Trails

Great granddam 3:

Little Britches

Great grandsire 4: WR Trails

Great granddam 4: HCR Miss Doherty 38
Shonuff has the genotype E+/- ds+/ds+ s/s cs+/cs+ Dn+/Dn+ R/r+ Br/- Bc/-, so she has large spots of reddish brown (which are brindled) on the head, neck, sides of body, and legs. She is also beginning to express the lighter spotting associated with the roan allele within the mostly white areas, as also seen in her dam, CO Barbwire.
Shonuff's ancestors are from the Phillips, WR, Butler, Wright, and Peeler families of Texas Longhorns.
For more explanation and information on Texas Longhorn coloration, click here.
Cows | Bulls | Heifers | Calves | Horn length | Coloration | Inbreeding | Ranch sites | Brand explanation | Links