Cows | Bulls | Heifers | Calves | Horn length | Coloration | Inbreeding | Ranch sites | Brand explanation | Links
---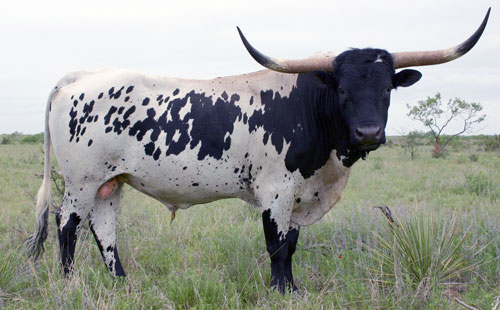 To see some of D-H Shogun's calves, please click here.
Pedigree of D-H Shogun (B66858; DOB: 10/14/00):
This fine young bull has an outstanding pedigree, great conformation and size, and is already producing excellent calves for us. Shogun looks very much like his sire (Overlord CP), but with more lateral horn development. This coloration results from being heterozygous at the Extension locus (ED/E+), homozygous for recessive white spotting (s/s), and homozygous or heterozygous for brockling (Bc/-).
Shogun is descended from some of the best bulls and cows of the Phillips, WR, Butler, and Wright families of Texas Longhorns. His ancestors include six of the bulls listed among the Greatest Texas Longhorn Herd Sires of All Time in a reader's poll by the Texas Longhorn Journal in 1996: Texas Ranger JP at #1, Bail Jumper at #2, Overwhelmer at #3, Impressive at #5, Cowcatcher at #6, and Classic at #9! Shogun's pedigree also contains four of the top five bulls of all time named by Texas Longhorn breeders in a poll conducted by Texas Longhorn Trails in 2001, including #1 Emperor in both sides of his pedigree. Emperor has become perhaps the premier Texas Longhorn bull of the modern era. In 2003, more of the Texas Longhorn cows that sold at public auction for over $10,000 were sired by Emperor than by any other bull, and he sired more of the 150 top-selling Texas Longhorns of the 1990s than any other bull (20 of the list of 150; no other bull sired more than 10 of the top 150 high-sellers). Shogun's sire, Overlord CP, has also consistently produced outstanding offspring, including Shogun's half-brother Boomerang CP (who produced more 2003 Horn Showcase Champions than any other bull). Both Overlord CP and Boomerang CP were listed among the top living bulls in the 2001 Texas Longhorn Trails breeders poll. In addition, the females in Shogun's pedigree are all outstanding. Shogun combines the long horns, outstanding conformation, and size of these great Texas Longhorns, and passes on these traits to his offspring.
For more information on the genetics of Texas Longhorn coloration, click here.
Cows | Bulls | Heifers | Calves | Horn length | Coloration | Inbreeding | Ranch sites | Brand explanation | Links