Cows | Bulls | Heifers | Calves | Horn length | Coloration | Inbreeding | Ranch sites | Brand explanation | Links
---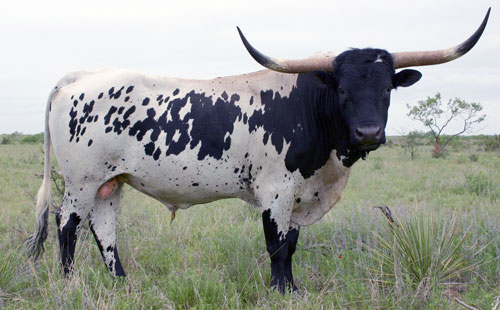 Pedigree of D-H Shogun (B66858) DOB: 10/14/00
This fine young bull has an outstanding pedigree, great conformation and size, and is already producing excellent calves for us. Shogun looks very much like his sire (Overlord CP). This coloration results from being heterozygous at the Extension locus (ED/E+), homozygous for recessive white spotting (s/s), and homozygous or heterozygous for brockling (Bc/-).
Shogun is descended from some of the best bulls and cows of the Phillips, WR, Butler, and Wright families of Texas Longhorns.
For more information on the genetics of Texas Longhorn coloration, click here.
Cows | Bulls | Heifers | Calves | Horn length | Coloration | Inbreeding | Ranch sites | Brand explanation | Links