Cows | Bulls | Heifers | Calves | Horn length | Coloration | Inbreeding | Ranch sites | Brand explanation | Links
---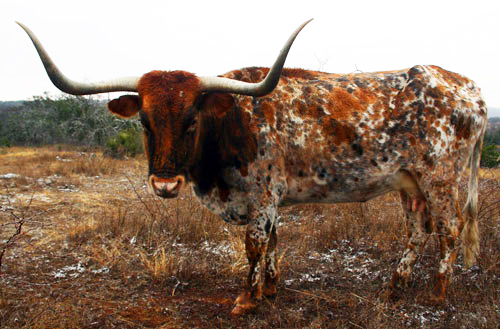 Pedigree of CO Barbwire (C182430, PH417) DOB: 4/7/97
Barbwire is a TLBAA Dam of Distinction (see Texas Longhorn Trails, vol. 15, no. 11, p. 72)
and now a TLBAA Dam of Excellence. She has produced 18 registered calves in a period of
16 and a half years!
One of our favorite cows, and now a TLBAA Dam of Excellence, havng produced 12 registered calves in a span of 10 years, 5 months! She raises great calves, and often passes on her unusual brindle coloration. CO Barbwire is homozygous for the Brindle allele and heterozygous for the wild-type and red alleles at the Extension locus, so she produces calves with some brindling (as they grow older), as long as they they have at least one wild-type allele at the Extension locus and are not dominant black. The unusual mixture of dark and light brindling is the result of interaction at the Brockling, Spotting, Roan, and Brindle loci. Barbwire's sire (Storm Warning) was the 1994 World Grand Champion Texas Longhorn. WR Trails, Barbwire's grandsire on both sides, produced three World Grand Champions, a World Reserve Senior Champion, a World Reserve Grand Champion, and was himself the World Get of Sire Champion in 1993 and 1994. Barbwire's ancestors are from the WR, Butler, Wright, and Peeler families of Texas Longhorns.
For more explanation and information on Texas Longhorn coloration, click here.
Cows | Bulls | Heifers | Calves | Horn length | Coloration | Inbreeding | Ranch sites | Brand explanation | Links