Cows | Bulls | Heifers | Calves | Horn length | Coloration | Inbreeding | Ranch sites | Brand explanation | Links
---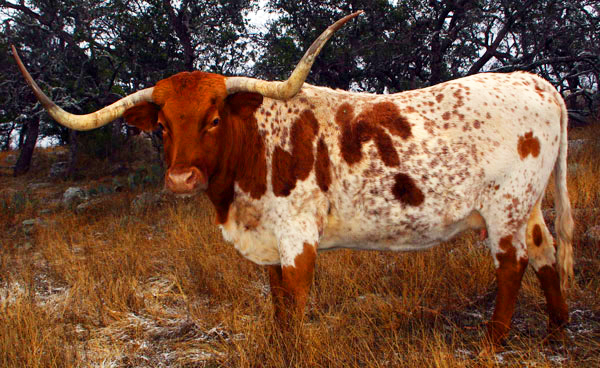 Pedigree of D-H Firefly (DOB: 1/4/03)
TLBAA #C215675, PH123

Firefly has the genotype E+/e ds+/ds+ s/s cs+/cs+ Dn+/Dn+ r+/r+ br/br Bc/-, so she has large spots of reddish brown on the head, neck, sides of body, and legs.
Firefly's ancestors are mostly from the Phillips, WR, Butler, and Wright families of Texas Longhorns, with some influence from the Peeler and Yates families as well.
For more explanation and information on Texas Longhorn coloration, click here.
Cows | Bulls | Heifers | Calves | Horn length | Coloration | Inbreeding | Ranch sites | Brand explanation | Links