Cows | Bulls | Heifers | Calves | Horn length | Coloration | Inbreeding | Ranch sites | Brand explanation | Links
---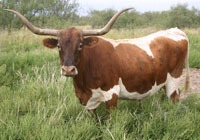 Pedigree of TP Bo Peep (C164067) DOB: 1/28/95
TP Bo Peep is heterozygous for the line-back or Pinzgauer pattern (SP/s at the Spotted locus), and is homozygous wild-type at the Extension locus (E+/E+). When bred to a black lineback bull (such as Blue Jacket), she can produce beautiful black and white linebacks (such as D-H Oreo). When bred to a bull that passes on the Dilution allele (e.g., D-H Bulldozer is heterozygous for this allele), she may produce fawn-colored solids or linebacks (e.g., see her November 2002 calf for the solid fawn-colored pattern). If bred to a bull that is homozygous for the recessive white-spotting allele (s/s at the Spotted locus) and heterozygous for the dominant black allele (such as Overlord CP), then she can produce calves that are white with black or brown on the head, neck, sides, and legs (such as D-H Bo Knows).
Bo Peep's sire (Wall Street) was the 1997 TLBAA World Show Champion Get of Sire. TP Bo Peep's ancestors are from the Phillips, WR, and Wright, and Butler families of Texas Longhorns.
For more information on Texas Longhorn coloration, click here.
Cows | Bulls | Heifers | Calves | Horn length | Coloration | Inbreeding | Ranch sites | Brand explanation | Links