Cows | Bulls | Heifers | Calves | Horn length | Coloration | Inbreeding | Ranch sites | Brand explanation | Links
---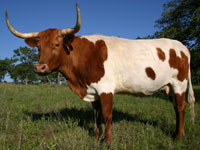 Pedigree of D-H Firecracker (C198540) DOB: 5/25/00
Firecracker has the genotype E+/e ds+/ds+ s/s cs+/cs+ Dn+/Dn+ r+/r+ Br/- Bc/-, so she has large spots of reddish brown (which are beginning to show brindling) on the head, neck, sides of body, and legs.
Firecracker's ancestors primarily come from the Phillips, WR, and Wright families of Texas Longhorns, but she also has some distant ancestors from the Yates and Peeler families (e.g., the grandsire of Ropeburn, who was Mr. Marlboro).
For more information on the genetics of Texas Longhorn coloration, click here.
Cows | Bulls | Heifers | Calves | Horn length | Coloration | Inbreeding | Ranch sites | Brand explanation | Links