Cows | Bulls | Heifers | Calves | Horn length | Coloration | Inbreeding | Ranch sites | Brand explanation | Links
---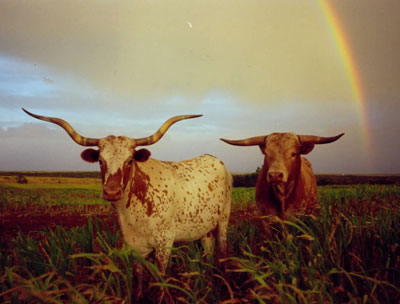 Pedigree of Fairy Tail (A 144529) DOB: 2/20/93
This cow has great twisty horns (>53" tip-to-tip) and excellent conformation. She produces a good calf every year. Her spotting pattern is produced by the recessive s allele at the Spotted locus. It can be seen, in varying degrees, going back in her pedigree through such ancestors as Impressive, Ranger's Measles, Texas Measles, Measles 2849, and Texas Ranger JP:
She continues to pass this spotting along to her calves, thereby keeping this unusual and beautiful phenotype in our Longhorn herd. Fairy Tail is homozygous red (e/e) at the Extension locus. Her ancestry is in the Phillips and WR families of Texas Longhorns.
For more information on the genetics of Texas Longhorn coloration, click here.
Cows | Bulls | Heifers | Calves | Horn length | Coloration | Inbreeding | Ranch sites | Brand explanation | Links