The Fly Gap Division of the Double Helix Ranch is located in central Texas, close to the geographical center of the state. The long-term average rainfall is about 26 inches per year (66 cm). However, an "average" year is quite rare. Instead, the ranch cycles regularly between wet periods (up to about double the average rainfall within a 12-month period) and dry periods (often as little as half the average rainfall). These wet-dry cycles are fairly regular, with "extreme" wet and dry periods occurring every three to five years (see the graph below):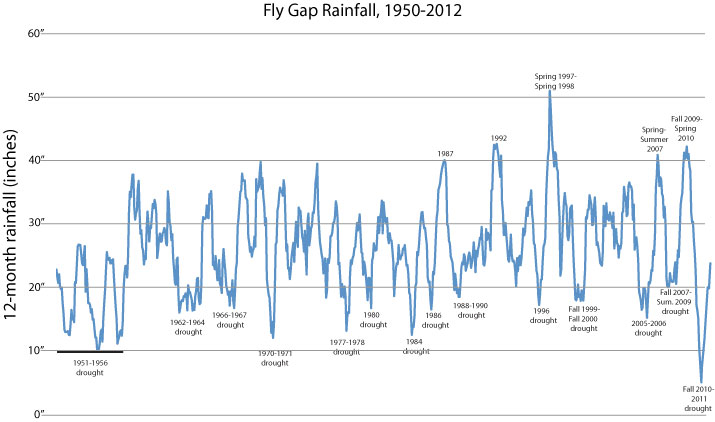 In this graph, each plotted point (one per month) shows the total rainfall for the previous 12 months. Since this 12-month moving sum always includes a full year, the cycles have no relationship to any seasonality (in other words, each 12-month period includes each of the months of January through December).
I have marked some of the major droughts and wet periods over the past 60 years. In particular, notice the severe drought of record in the early 1950s. Also, notice that the wettest wet periods have been in the past two decades, and that the 2010-2011 drought was the worst since the drought of record in the early 1950s (for a single year, October 2010 through September 2011 was the driest 12 months on record). The 1950s drought actually consisted of three droughts of similar intensity to the 2010-2011 drought in a row, with short periods of near-average precipitation in between each major dry period. Although our recent droughts have been compared in the news media to the drought of the early 1950s, the 1950s drought was much longer, more widespread, and severe than any drought that we have experienced since (although the 2010-2011 drought was the worst one-year drought). For example, many major rivers in south and central Texas (such as the Llano River and the Medina River) stopped flowing or dried completely during the 1950s drought. These rivers have not stopped flowing again since then, despite much higher water use from growing human populations, although we came very close with the 2010-2011 drought. We are fortunate that most of our recent severe droughts were followed by very wet conditions (associated with El Niño episodes). For example, the 2005-2006 drought was followed by an El Niño episode in late 2006 through summer 2007, before the drought conditions returned in late 2007. Another very wet period (associated with another El Niño episode) in winter of 2009-2010 followed the drought of 2007-2009. We are currently hoping for an El Niño to develop in late 2012 to help us recover from the 2010-2011 drought.
These wet-dry cycles in central Texas are caused largely by the fluctuations in ocean temperatures in the equatorial Pacific Ocean (the El Niño Southern Oscillation). When the equatorial Pacific Ocean temperatures rise, rainfall in central Texas increases (especially from fall to spring). When these ocean temperatures fall, rainfall in central Texas decreases. Long periods of above-average Pacific Ocean temperatures are called El Niño episodes, and long periods of below average temperatures are called La Niña episodes. Specifically, the Ocean Niño Index (ONI) measures the departures in temperature from the long-term average in an area of the Pacific Ocean known as Niño 3.4. El Niño episodes are declared when the ONI is above 0.5 degrees (C) for five or more consecutive overlapping three-month periods, and La Niña episodes are declared when the ONI is below 0.5 degrees for five or more consecutive overlapping three-month periods. (If the ONI is above or below the 0.5 C range but it has not yet been there long enough to declare an El Niño or La Niña episode, then El Niño or La Niña conditions are said to exist.)
There are exceptions to the pattern of wet El Niño years and dry La Niña years, of course. Hurricanes also can have a major influence on our rainfall patterns in the summer and fall, and hurricanes tend to be suppressed in El Niño years and more active in La Niña years. However, research published in 2009 (Impact of shifting patterns of Pacific Ocean warming on north Atlantic tropical cyclones; Science 325: 77-80) suggests that there are actually two versions of El Niño episodes, depending on the exact location of the warmer water in the equatorial Pacific. In the classic version of an El Niño, the warming is in the eastern Pacific, and Atlantic hurricanes are less frequent. But in the variant El Niño, the warming is in the central Pacific, and Atlantic hurricanes are as frequent as they are in La Niña years. La Niña years tend to be dry in the winter and spring, but may get late summer/fall floods associated with hurricanes. El Niño years are often wet in the winter and spring. The wettest years of all come when we have an El Niño winter and spring, and then the El Niño breaks to allow an active hurricane season in the summer and fall. This latter pattern can also occur under the variant El Niño conditions, in which the warming occurs in the central Pacific.
The following graph from the NOAA/National Weather Service Climate Prediction Center shows the El Niño/La Niña cycles since 1950:
In the graph above, orange indicates El Niño conditions, and blue indicates La Niña conditions. If you compare the wet/dry cycles at Fly Gap to the El Niño/La Niña cycles, you will see that there is a close correlation. The long-lasting 2007-2009 drought resulted from a "double-dip" La Niña. Conditions briefly returned to near neutral in summer 2008, but then went right back into La Niña conditions in late 2008 and early 2009 (bringing back the drought conditions). In summer 2009, we returned to El Niño conditions, and a full El Niño episode developed in late 2009 (which produced our wet and cool winter of 2009-2010). Unfortunately, we had another double-dip La Niña in 2010-2011 (see more below).
Examples of the variant El Niño episodes, in which most of the warming was in the central Pacific (El Niño area 4) rather than in the eastern Pacific (El Niño area 3), include the El Niño episodes of 1969-1970, 1991-1992, 1994-1995, 2002-2003, and 2004-2005. These variant El Niño episodes appear to be becoming more common than the "typical" El Niño episodes. These episodes all increased our rainfall in central Texas in the expected pattern, sometimes breaking a drought in dramatic fashion with heavy tropical rainfall in the fall (e.g., the October to December rainfall for these five episodes was 13.23", 12.17", 10.75", 8.28", and 9.08", respectively, all of which are well above our average rainfall for these months of 6.86".)
If we plot the ONI against the rainfall deviation from the long-term average, on a month-by-month basis for the past 20 years, the correlation of the El Niño/La Niña conditions with rainfall in central Texas is quite clear: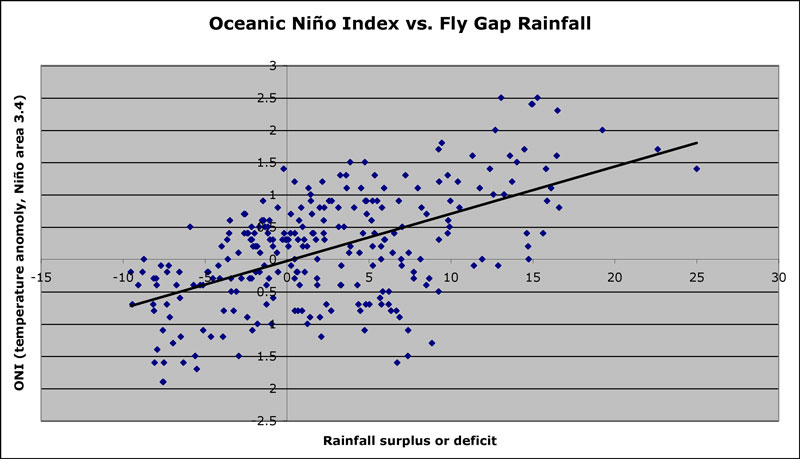 In particular, note that when the ONI is above 1.0, Fly Gap (located very close to the geographic center of Texas) is almost always wetter than the long-term average (there is a rainfall surplus). When the ONI is below -1.0, Fly Gap is likely to be in drought (a rainfall deficit, although this pattern is somewhat more variable). Some of the variation stems from the fact that El Niño episodes (when the ONI is high) tend to produce wet weather in central Texas from fall through spring, but drier than normal weather in the summers.
The NOAA/National Weather Service Climate Prediction Center presents the following map to describe the usual winter weather pattern that accompanies an El Niño episode. Notice that the Pacific Jet Stream brings wet, cooler weather over Texas: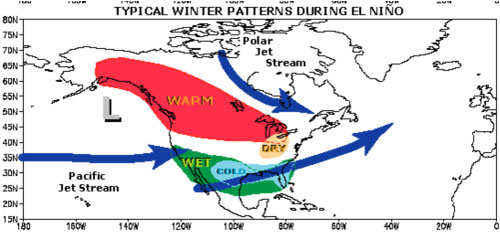 The usual wet winter pattern for an El Niño episode (as expected in central and south Texas) is somewhat less predictable in north or west Texas, and of course every El Niño episode does not necessarily bring wetter winter weather—it simply improves our chances for wet weather. The following maps (from the NOAA/National Weather Service Climate Prediction Center) show the average precipitation deviations for the past 18 El Niño episodes (on the left; green indicates higher than average precipitation), as well as the frequency of these expected deviations over the 18 El Niño episodes (on the right; blues indicate low frequency of occurence, and oranges to reds indicate high frequency of occurence). The first map is for the months of October to December, the middle map for the months of November to January, and the third map for the months of December to February. Although almost all of Texas tends to be wetter than normal in an El Niño episode, notice that the wet winter pattern is strongest and most predictable in south-central, south, and south-east Texas: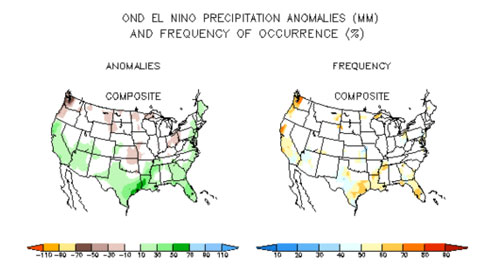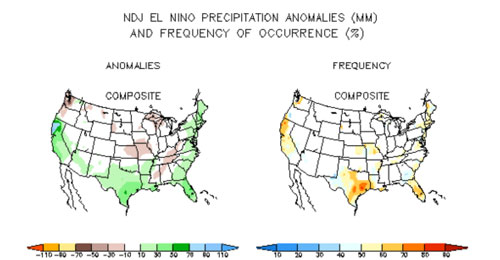 Are these patterns changing with global warming? From the graph of the El Niño/La Niña cycles and the graph of Fly Gap rainfall since 1950, notice that for the last 20 years, both the ONI and Fly Gap rainfall have tended to be above their long-term averages, consistent with the world-wide patterns of global warming. In fact, global warming may be responsible for a slow but consistent increase in our local average annual rainfall. In a graph of the 12-month running rainfall at Fly Gap since 1895 (when records begin), a gradual increase in average rainfall is apparent: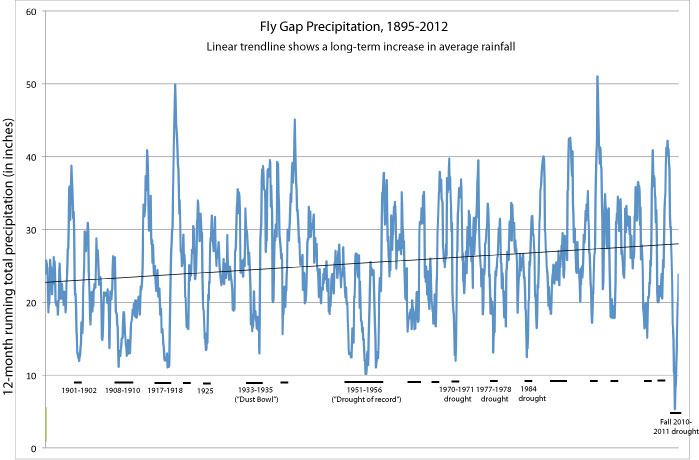 Although the average across all these years is about 26 inches, note that the annual average has shifted upward by almost 5 inches since the late 1800s (from about 23 to 28 inches per year).
Will these long-term patterns continue in central Texas with increased global warming? There is considerable debate about that point, with different models showing different outcomes. A moderate degree of ocean warming is likely to increase El Niño events, which tend to make central Texas wetter. However, a major increase in temperatures could cause a shift in the Pacific jet stream, which supplies us with much of our moisture. An increase in temperature would increase evapotranspiration (if average wind speed remains constant), so it would take more rainfall to produce the same amount of soil moisture. However, worldwide increased evaporation also must lead to increased precipitation, since evaporation and precipitation have to be in equilibrium in the long term (otherwise, atmospheric moisture would continue to increase or decrease indefinitely). Some climate models predict increased variation in rainfall for the southwestern United States, which could increase the intensity of both droughts and floods. One recent analysis of the worldwide rainfall patterns over the past twenty years shows a slow but significant increase in global precipitation associated with global warming (How much more rain will global warming bring?; Science 317: 232-235; 2007). Although this is consistent with the effects seen locally in central Texas over the past few decades, the rainfall patterns in any one region could change quickly depending on a large number of climatic complexities. The bottom line is that the long-term predictions are all over the map for central Texas. The one thing that is clear is that global warming will produce major effects on precipitation patterns. Whether that means that central Texas will become wetter, drier, or more variable is not yet entirely clear, however. To date, recent global warming seems to have made central Texas wetter, but a switch point in the climate could end that trend suddenly.
The following graph from NOAA documents the reality of global warming, and how quickly and suddenly it is happening. Note that global temperatures have been consistently above average, and steadily rising, since about 1980. One can see the beginnings of this trend dating back to about 1940: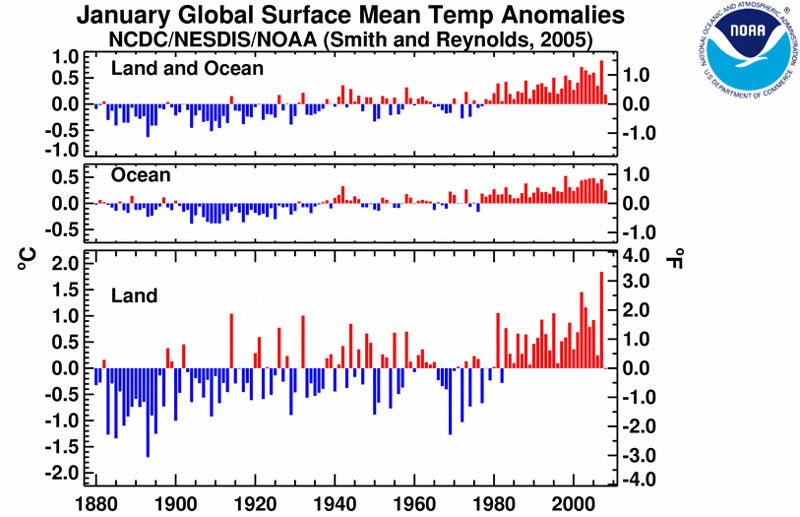 Getting back to the effects from El Niño/La Niña cycles: The effects of this cycle are particularly evident from fall through spring. If we compare El Niño years to La Niña years in central Texas, and look at the rainfall from October to March at Fly Gap, most El Niño years are wetter than average and most La Niña years are drier than average. In the following graph (based on data from Fly Gap from 1951-2009), El Niño years are shown in blue, and La Niña years in red: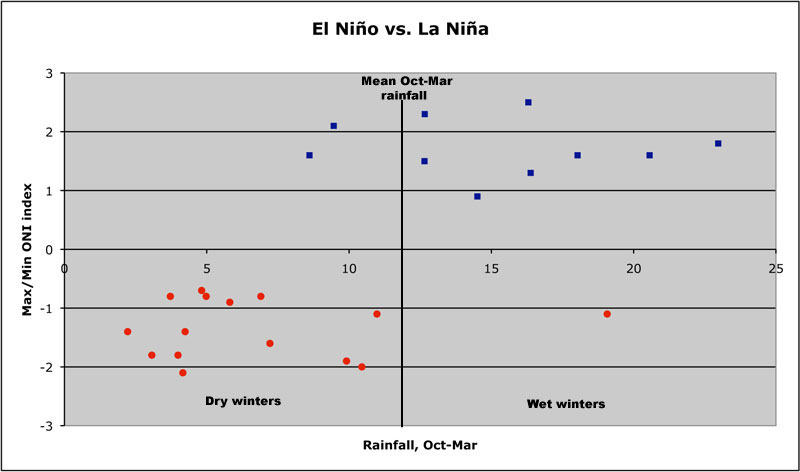 Note that almost all very wet years were El Niño years, and all the very dry years were La Niña years. Only two of ten El Niño winters were below average (the exceptions were 1965-1966 and 1972-1973), and only one of fifteen La Niña winters was above average (the exception was 1984-1985). The mean rainfall for El Niño winters is about three times the mean rainfall of La Niña winters. The recent La Niña winters of 2005-2006, 2007-2008, and 2008-2009, and 2010-2011all fit this pattern perfectly, with just 4.82", 4.24", 6.9", and 2.72" of rain from October to March in these four winters, respectively.
[Click here to see updates, discussion, and photos from 2006-2011; more recent updates are posted below]
Update, 8 February 2012: Good Bye and Good Riddance, La Niña
We were pretty close to average in rainfall in central Texas over the past two months, and much warmer than normal. Some areas received more rainfall than average, and some less, of course. The combination of adequate rainfall and warm weather has resulted in some signs of GREEN in many areas, including on the Double Helix Ranch! We still have a long way to go to make up for our serious rainfall deficit over the past year, but things are certainly looking up. The latest models show a continuing weakening of the La Niña that has held us in prolonged drought: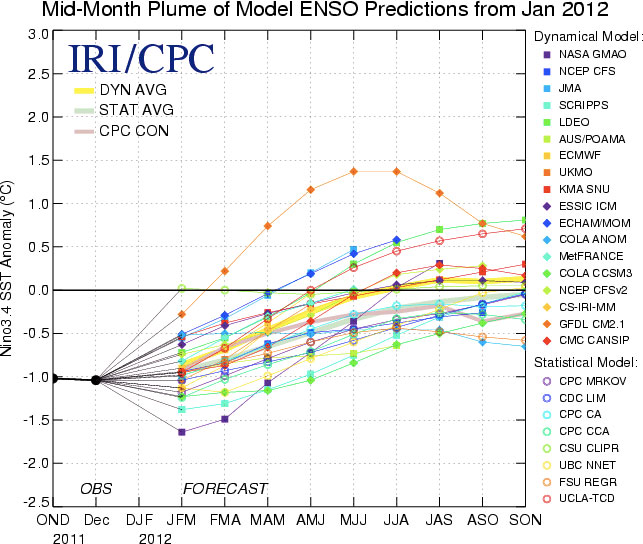 It looks like the La Niña will continue to weaken through Spring 2012, and that we are likely to be back to neutral conditions by this summer. It is more likely than not that we will still have below-average rainfall through the spring, but at least there are hopeful signs of improvement.
Update, 19 June 2012: 50% Chance for Developent of El Niño Conditions by Fall
Summer is here, and our rainfall in central Texas has been close to normal so far this year, consistent with our neutral El Niño/La Niña conditions. It has been a huge improvement over last year's drought, even though conditions are still dry over much of Texas. But compare the drought conditions from last fall (when 100% of Texas was in drought, and 97% of Texas was in one of the worst two drought categories) with our current conditions (90% of Texas is still in drought, but only 6% of Texas is in the second-worst drought category, and 0% is in the worst category):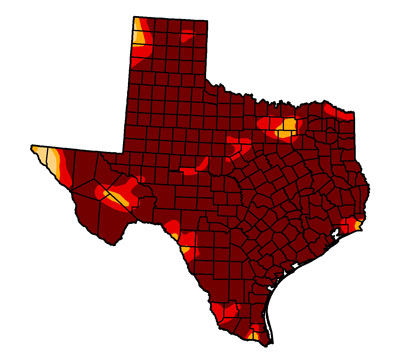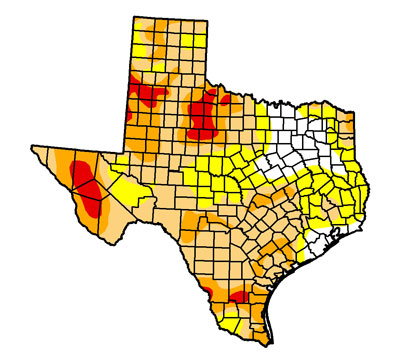 October 4, 2011 versus June 19, 2012 (U.S. Drought Monitor)
The chances for moving into a wet fall and winter are looking better as well. NOAA is now predicting a 50% chance of El Niño conditions developing by fall (with about an equal chance for continued neutral conditions, and very low chances for a return this fall of another La Niña):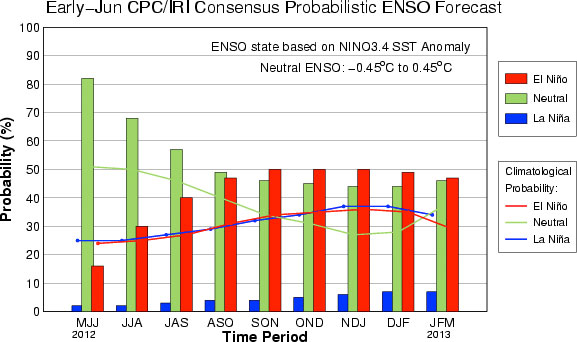 This is good news for our rain outlook this fall and winter! It is looking like we will likely be near normal in rainfall through the rest of the year (if we continue in neutral conditions), or have above average rainfall (if we move into El Niño conditions). Of course, individual El Niño seasons vary, and there are never any guarantees of increased rainfall, but at least the prospects for a wet fall and winter 2012-2013 in central Texas are looking up.
Update, 4 July 2012: The Ten Worst Droughts of the Last 117 Years
I've finally had a chance to analyze the rain records back to 1895, and produce a graph of the 12-month running rainfall for the past 117 years: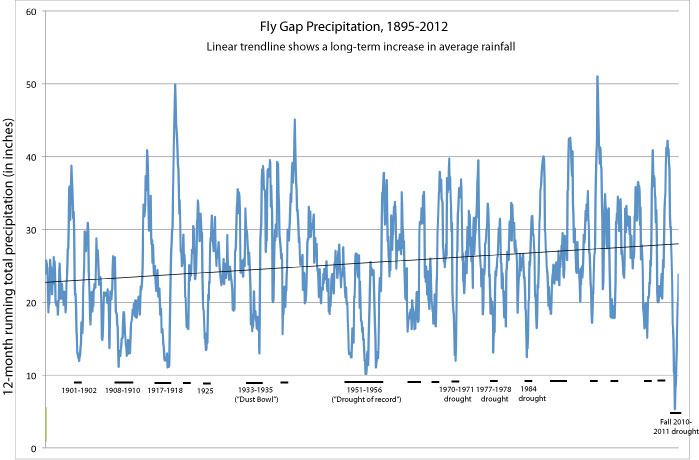 Several interesting points emerge from this:
1. Last year's drought really was remarkable, as last year was the only time since 1895 that we have dipped below 10" of rainfall in one 12-month period (we dropped all the way to 5").
2. Although no one year was ever as dry during the early 1950s drought as we were last year, the 1950s drought lasted far longer and overall was much more severe.
3. The 1930s "Dust Bowl" drought was not a remarkable drought in central Texas; some of the problems of that drought were related to unwise farming practices and the depressed economy. That drought was worse, however, in the panhandles of Texas and Oklahoma.
4. The long-term increase in rainfall at Fly Gap is clear: from an average of about 23" in the late 1800s, to an average of about 28" now (even with the data from our latest severe drought included).
5. Despite media reports to the contrary, only last year's drought was remarkable compared to the long-term record. Our other recent droughts have not stood out. I've labeled the ten driest periods from 1895-2012 (those in which we've dropped below 15" of rain for a 12-month period), and last year was the only one of these periods in the past quarter-century.
I'm working with some colleagues to compare the tree-ring data on our ranch with this rainfall record. Many centuries-old post oaks died on our ranch in 2011, and we have been cutting them down to compare the tree-ring record to the rainfall record. It should be interesting to see how they compare. It is remarkable that trees that lived through all the droughts on this graph were killed by the 2010-2011 drought.
Finally, the latest Pacific sea-surface temperatures are looking good for the development of El Niño conditions this fall. The eastern equatorial Pacific is already warming up, and the westerm equatorial Pacific looks like it is following. This is good news for our rain chances this fall and winter in central Texas: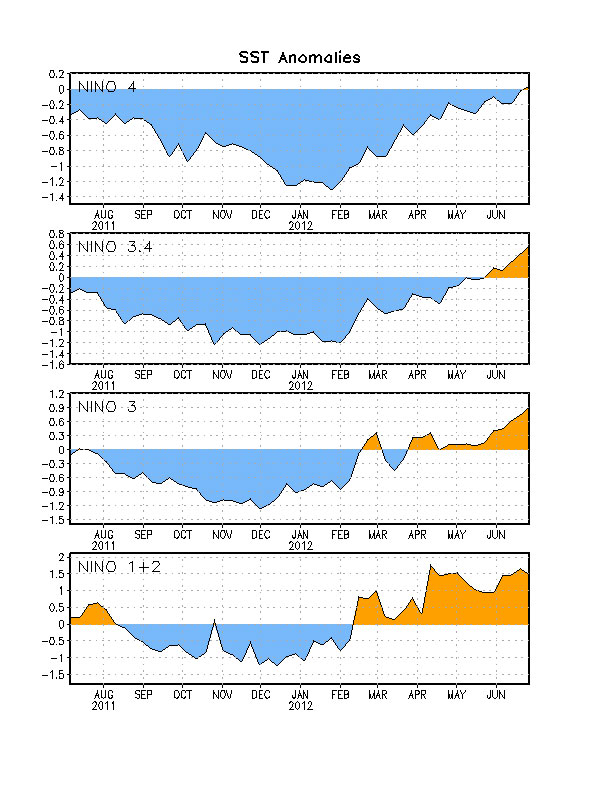 Update, 2 October 2012: Last year was the closest to "average" for rainfall that Texas has seen in a long time
As noted above, we have been slowly getting out of a La Niña pattern, and developing into a mild El Niño pattern, for most of the past year. Our weather is turning wetter, and it is certainly a big change from last year's record drought. But much evidence of the drought lingers: lakes are low, the loss of centuries-old trees is staggering, and agricultural production is still suffering. The worst of the drought has shifted north of Texas, into the midwestern plains states. So the news media in Terxas can't seem to decide: Are we still in a drought? A wet period? What do we call this year?
In truth, the past water year (October 2011 through September 2012) was about as close to "average" as we ever get in Texas. If we look at the rain as a percentage of normal for this period, there are few places in Texas that deviated greatly from average this past year: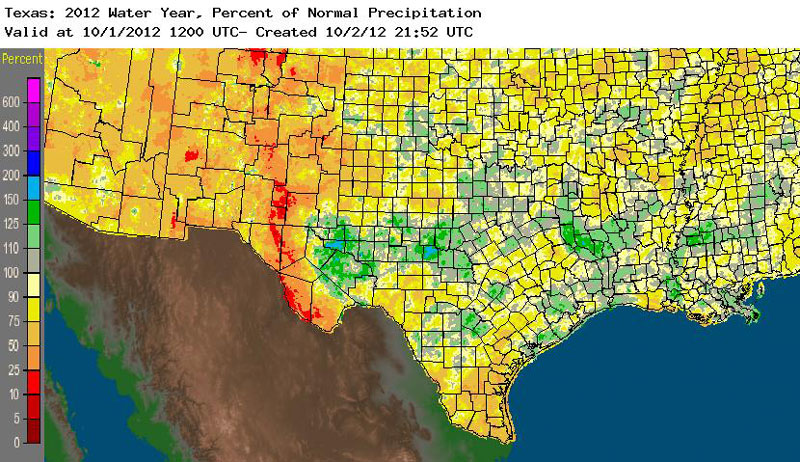 Most of the state is shaded from light yellow (slightly below average) to light green (slightly above average). In central Texas, we are basically right on the average. Far west Texas certainly remained very dry, and parts of the High Plains and south Texas were on the dry side. But central Texas lakes are still so low because the previous year was so dry, and an average year hasn't been enough to catch us up. Compare this map to the 2011 water year: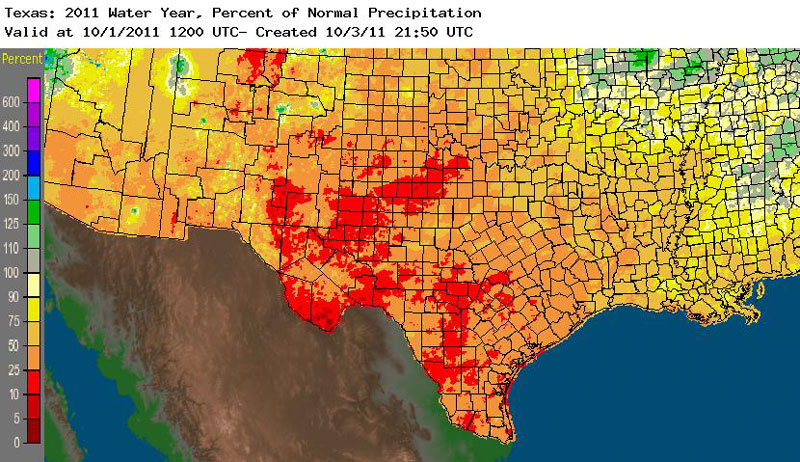 Note that virtually the entire state (except parts of northeast Texas) had under 50% of normal rainfall, and large parts (including the Double Helix Ranch in central Texas) had less than 25% of normal rainfall. That was certainly a bad drought year (in fact, our worst in recorded history).
Looking back at similar maps for the past several years, you can see that the patterns I've talked about for central Texas have actually held true for much of Texas. The cyclical droughts and wet periods are clearly visible at a larger scale. For example, the relatively wet 2010 El Niño year: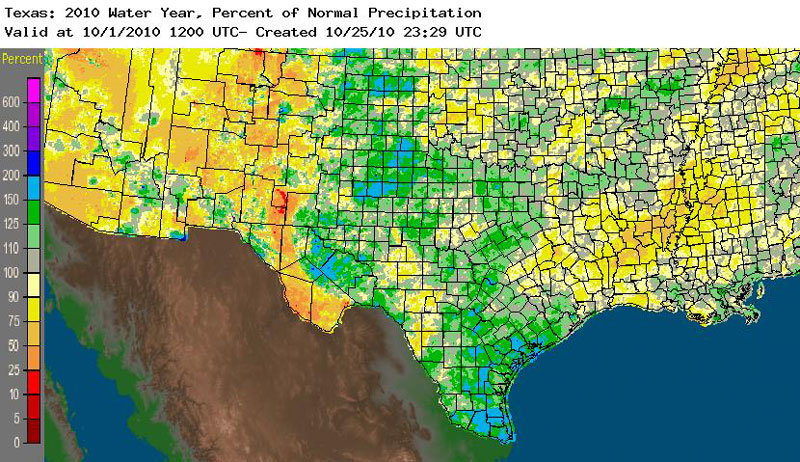 The 2010 wet period followed the dry 2009 water year, caused by a lingering La Niña (south of the Panhandle; this drought was worst in south and west Texas):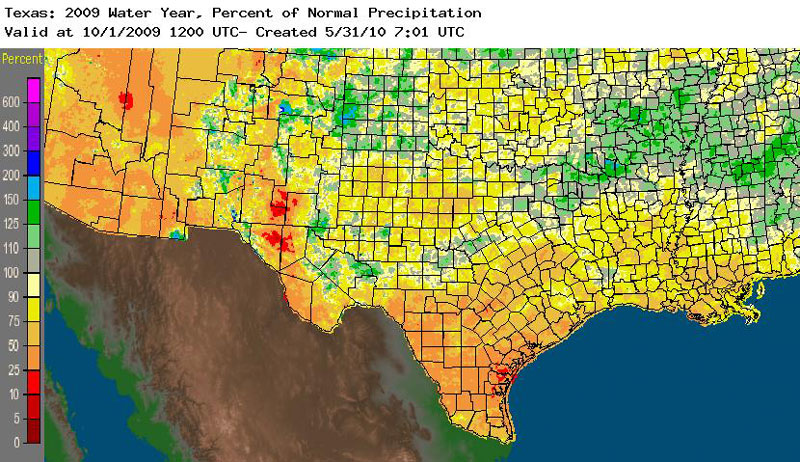 The dry year of 2009 was made more severe because it extended another dry La Niña year in 2008 (which was most severe in south-central Texas):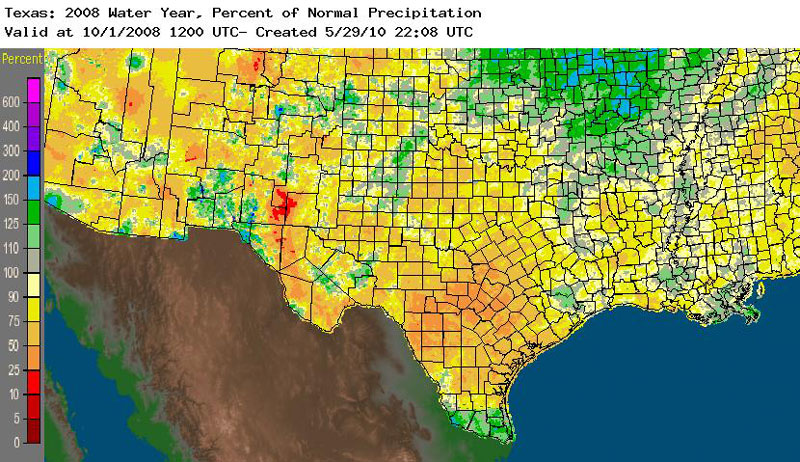 But 2007 was a wet El Niño year: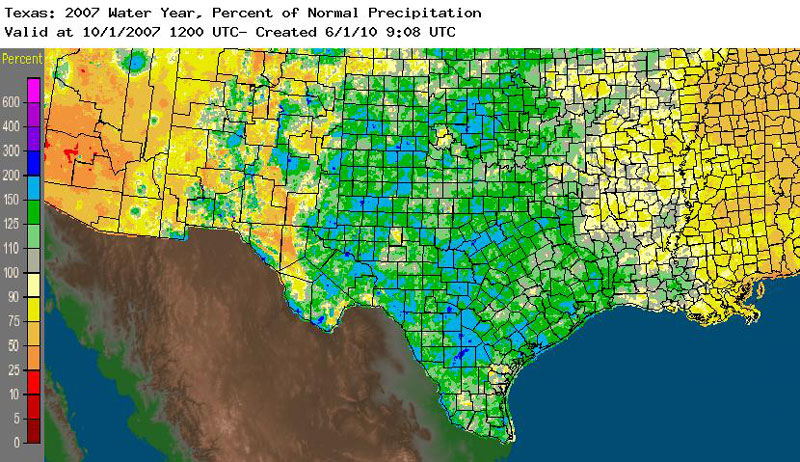 Which followed another dry La Niña year in 2006: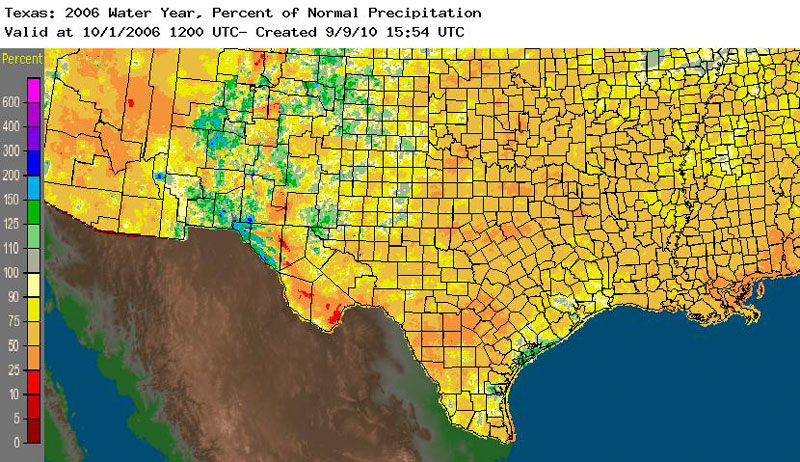 Hopefully, these maps clarify that the cyclical La Niña/El Niño pattern that can be seen in central Texas actually applies to much of Texas. The extremes of south Texas, west Texas, and the Panhandle are more likely to deviate, but the patterns apply to much of the state. Also note, however, that pockets of wetter or drier conditions are expected in any year. The predictions are for large geographical averages, not specific local rainfall totals.
So, now that we are in the part of the year that is most strongly affected by the La Niña/El Niño cycle, what can we expect? We are currently in slightly positive El Niño conditions, but not yet in a full El Niño episode. Most models suggest that we will have a moderate or weak El Niño this winter, which typically means somewhat wetter than normal weather: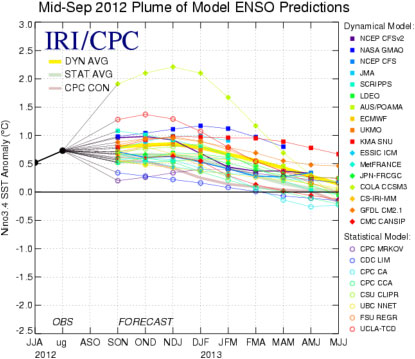 It is about twice as likely that we will have weak El Niño conditions, compared to the chances for neutral conditions, through the 2012-2013 winter. But fortunately an immediate return to La Niña conditions is unlikely. The bad news is that it looks likely that this El Niño will be short-lived: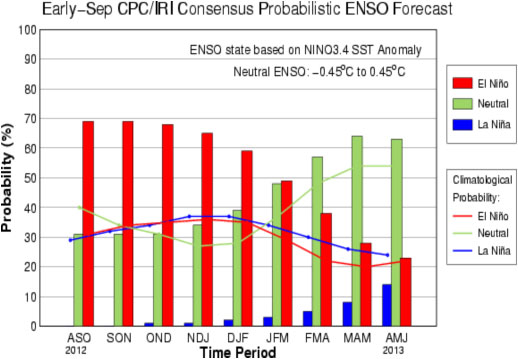 Update, 5 November 2012: Are we still in a drought? Yes and No...
We are still in essentially neutral El Niño/La Niña conditions, and it is looking like our chances of a strong El Niño this winter are disappearing. We have had a year of approximately normal rainfall, though, so are we out of the great drought of 2011? In some respects, yes, but the drought was so severe that it had long-term consequences, especially for ground- and surface-water storage. On the surface, soil moisture is near normal (or even wetter than normal in some areas of central Texas), but underground, the aquifers have not yet recharged. That means lower flow from springs, which means lower flow in creeks and rivers, which means lower flow into water storage reservoirs. This graphic from NOAA shows the contrast well: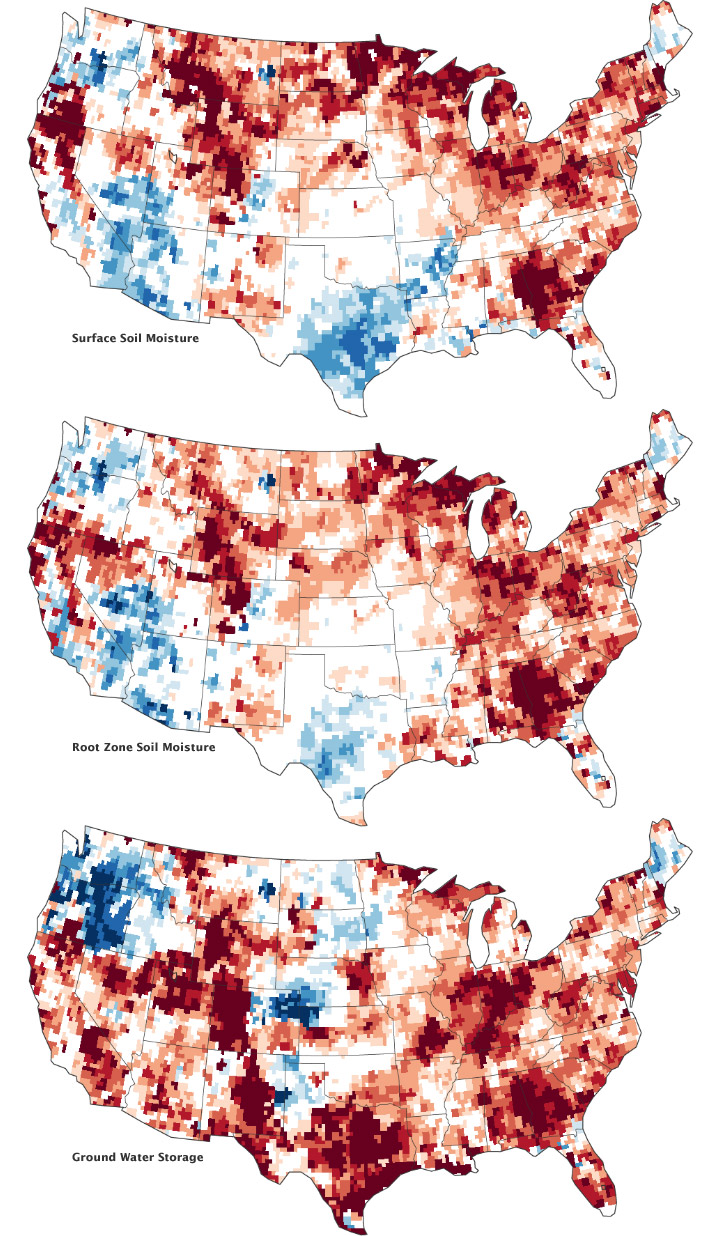 Note that on the surface and in the root zone, we are normal-to-wet, but the ground-water storage is far below normal. The rains that have fallen have not yet been enough to recharge the aquifers.
Although the prospects for a very wet winter in central Texas are not looking good, it does not look like we are headed back into a La Niña, either. The expectation is that we will remain in neutral or near-neutral conditions for a while, which means that our rainfall should remain somewhere near normal. Here are the model predictions for the next year; note that most of the models keep us in neutral or very weak El Niño conditions: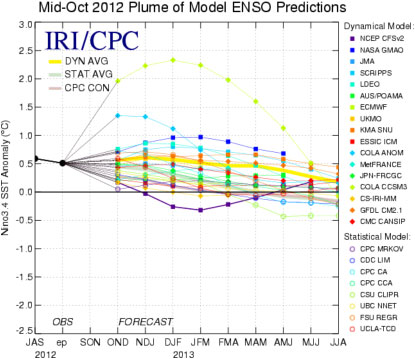 Update, 15 January 2013: A Quarter of a Year Without Rain
Most months have at least some rain. But from mid-October of 2012 to mid-January 2013 (last week), we had barely a trace. After a quarter of year without rain, we finally had a good rain (2.4") last week. That will certainly help stimulate the winter forbes and cool-season grasses, but three months without rain turned us from merely dry back into severe drought. This lack of rainfall happened despite neutral El Niño/La Niña conditions, which are expected to continue at least through the summer of 2013.
Update, 8 July 2013: Stuck in Neutral
Not much exciting to report on the El Niño/La Niña forecast. We continue to be stuck in ENSO (El Niño/Southern Oscillation)-neutral conditions, and that pattern likely to continue through the fall and winter of 2013-2014. It has now been over three years since the end of our last El Niño episode, and we have endured two La Niña episodes during that time. This explains our long and continuing drought. We tyically have El Niño episodes every three to five years, so eventually the pattern should change. However, the models give little hope (less than 20% chance) of an El Niño episode developing this year. At least the chances of moving back into another La Niña episode are almost as low (see below). It appears likely that we will remain stuck in ENSO-neutral conditions until at least early next year: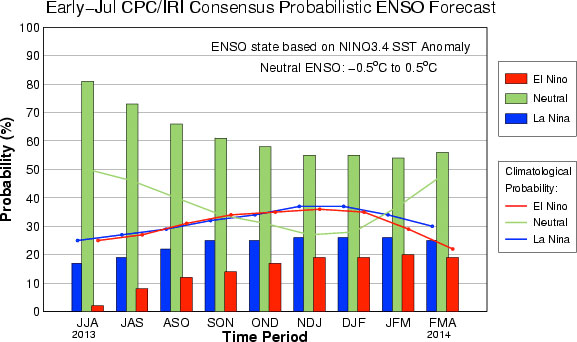 Update, 17 July 2013: Update of Fly Gap Rainfall Record
I updated the 12-month cumulative ranfall data for Fly Gap through June 2013. As can be seen below, after briefly returning to near-average rainfall in early 2012 (following the devastating drought of Fall 2010 and 2011), we started heading back into severe drought in Fall 2012. This "double-dip" drought is reminiscent of the first half of the "triple-dip" drought of the 1950s, although our current drought status is not yet nearly as severe as the second part of the 1950s drought. Areas just to our north had heavy rains this week, so some areas of central Texas show improvement in July.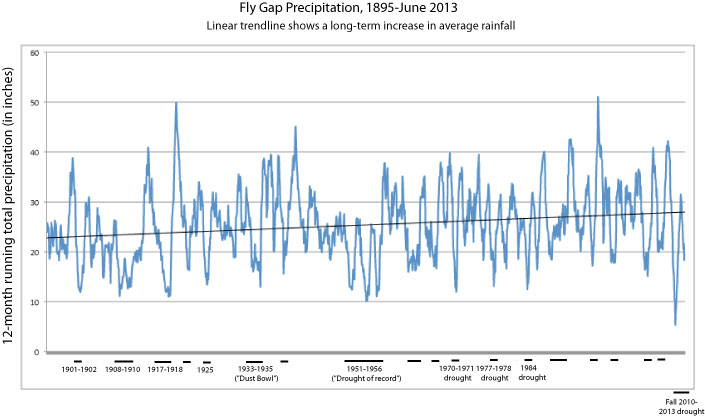 Update, 5 November 2013: Things are Looking Up This Fall
We've done pretty well for rain in September and October this fall, although we missed out on all the heavy rainfall that flooded Austin and vicinity twice in October. In fact, the entire watershed for the Highland Lakes (Austin's water supply) has still not received enough rain to produce much runoff, so the lakes are still near record lows. Austin, by contrast, had a record wet October, with serious flooding consequences. This was a result of the convergence of fronts producing a training of storms along the Balcones Escarpment near Austin (twice in as many weeks), with up to a foot of rain falling in places each time. But at Fly Gap, 100 miles to the west, we've had just over 22" of rain in the past 12 months, still well below the long term average. The tanks and streams are still low or not flowing, but there has been enough rain for some good grass growth this fall. The long term forecast still indicates relatively neutral El Niño/La Niña conditions. Maybe we'll pull up closer to the annual average rainfall by year's end.
The big question is, when will we finally move into another El Niño episode, which should bring us much wetter weather? It doesn't look likely for this winter, but chances are beginning to look up for winter 2014-2015. Most models show an upward trend of sea-surface temperatures in the critical regions of the Pacific Ocean. It is still too far out to predict an El Niño event for next winter, but at least the trend is in that direction, finally: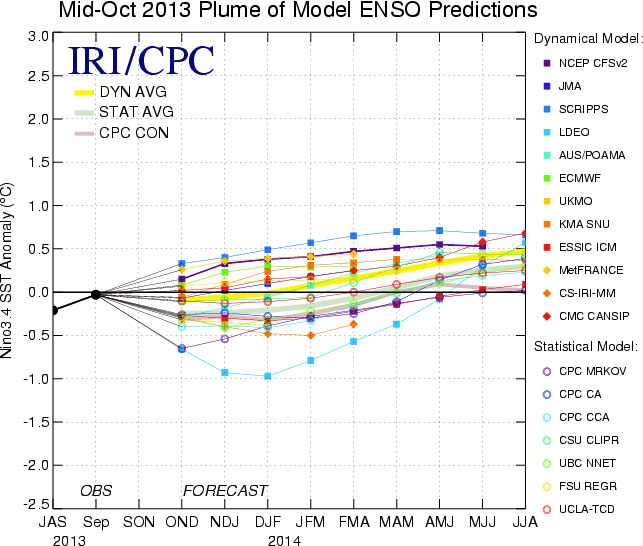 -----------------------------------------------------
For comments or queries, please contact:
David Hillis, Double Helix Ranch, doublehelix@att.net